What Is Thermal Printer Ribbon ?
We introduced the difference between direct thermal printing and thermal transfer printing. You might be curious about what thermal printer ribbon is , which is used as the mechanism in thermal transfer printing.


What is thermal printer ribbon & how does it work ?
Thermal printer ribbon is a thin film that is wound on a roll that has a special black coating on one side, which is usually made from a wax or resin formulation.
In the process of thermal transfer printing, the ribbon is run between the label and the print head, with the coated side of the ribbon facing the label. When the ribbon and label pass over the print head, the print head heats up the ribbon's coating to transfer image to the surface of the label.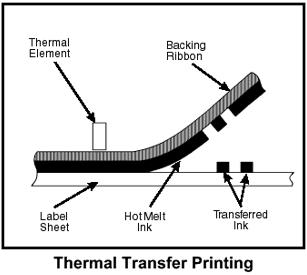 Are there types of Ribbon?
According to the material used to made ribbons, thermal transfer ribbons can be roughly divided into three types : Wax, Wax-Resin, Resin ribbons
Ribbon Categories


Wax Ribbon
Wax ribbons is made from mainly Wax (7-10% resin including also). Its printing quality features: moisture, rich blacks and low print temperature. It is recommended to print on coated papers, uncoated paper



Wax-Resin Ribbon
This type of ribbon contains nearly 50% was and resin respectively. Because of this, its printing quality is scratch and abrasion resistant. If you want to print on polypropylene label paper, wax-resin ribbon is your ideal selections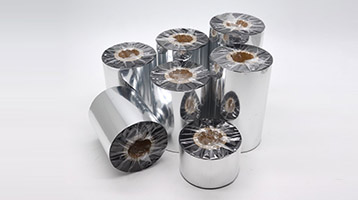 Resin Ribbon
Resin Ribbon mainly contains Resin. With Resin ribbon, you can not only print dark and sharp images but also ensure the printed labels free from the damage caused by harsh environments